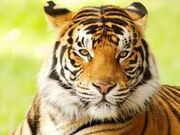 The Bengal Tiger is the most numerous tiger subspecies. Since 2010, it has been classified as endangered by the IUCN. The total population is estimated at fewer than 2,500 individuals with a decreasing trend, and none of the Tiger Conservation Landscapes within the Bengal tiger's range is large enough to support an effective population size of 250 adult individuals. It is the national animal of both India and Bangladesh.
Description
Edit
The Bengal tiger's coat is yellow to light orange, with stripes ranging from dark brown to black; the belly and the interior parts of the limbs are white, and the tail is orange with black rings. Male Bengal tigers have an average total length of 270 to 310 cm (110 to 120 in) including the tail, while females measure 240 to 265 cm (94 to 104 in) on average. The tail is typically 85 to 110 cm (33 to 43 in) long, and on average, tigers are 90 to 110 cm (35 to 43 in) in height at the shoulders. The weight of males ranges from 180 to 260 kg (400 to 570 lb), while that of the females ranges from 100 to 160 kg (220 to 350 lb). The white tiger is a recessive mutant of the Bengal tiger, which is reported in the wild from time to time in Assam, Bengal, Bihar and especially from the former State of Rewa.
In the Indian subcontinent, tigers inhabit tropical moist evergreen forests, tropical dry forests, tropical and subtropical moist deciduous forests, mangroves, subtropical and temperate upland forests, and alluvial grasslands. Latter tiger habitat once covered a huge swath of grassland and riverine and moist semi-deciduous forests along the major river system of the Gangetic and Brahmaputra plains, but has now been largely converted to agriculture or severely degraded.
The basic social unit of the tiger is the elemental one of mother and offspring. Adult animals congregate only on an ad hoc and transitory basis when special conditions permit, such as plentiful supply of food. Otherwise they lead solitary lives, hunting individually for the dispersed forest and tall grassland animals, upon which they prey. They establish and maintain home ranges.
They prefer hunting large ungulates such as chital, sambar, gaur, and to a lesser extent also barasingha, water buffalo, nilgai, serow and takin. Among the medium-sized prey species they frequently kill wild boar, and occasionally hog deer, muntjac and Gray langur. Small prey species such as porcupines, hares and peafowl form a very small part in their diet. Bengal tigers have been known to take other predators, such as leopards, wolves, jackals, foxes, crocodiles, Asiatic black bears, sloth bears, and dholes as prey, although these predators are not typically a part of their diet.