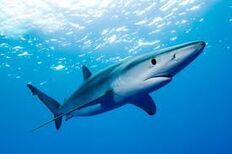 The Blue Shark is a species of requiem shark, family Carcharhinidae. Preferring cooler waters, blue sharks migrate long distances, for example from New England to South America. Although generally lethargic, they can move very quickly.
Description

Edit
Blue sharks are light-bodied with long pectoral fins. The top of the body is deep blue, lighter on the sides, and the underside is white. The male blue shark commonly grows to 1.82 to 2.82 m (6.0 to 9.3 ft) at maturity, whereas the larger females commonly grow to 2.2 to 3.3 m (7.2 to 11 ft) at maturity. Large specimens can grow to 3.8 m (12 ft) long. Occasionally, an outsized blue shark is reported, with one widely-printed claim of a length of 6.1 m (20 ft), but no shark even approaching this has been confirmed in this species. The Blue Shark is fairly elongated and slender in build and typically weighs from 27 to 55 kg (60 to 120 lb) in males and from 93 to 182 kg (210 to 400 lb) in large females. Occasionally, a female in excess of 3 m (9.8 ft) will weigh over 204 kg (450 lb). The heaviest reported weight for the species was 391 kg (860 lb) .
The blue shark is an oceanic and epipelagic shark found worldwide in deep temperate and tropical waters from the surface to about 350 meters. In temperate seas it may approach shore where it can be observed by divers, while in tropical waters it inhabits greater depths.
Squid are important prey for blue sharks, but their diet includes other invertebrates such as cuttlefish and pelagic octopuses, as well as lobster, shrimp, crab, a large number of bony fishes, small sharks, mammalian carrion and occasional sea birds. Whale and porpoise blubber and meat have been retrieved from the stomachs of captured specimens and they are known to take cod from trawl nets. Blue sharks rarely eat tuna.