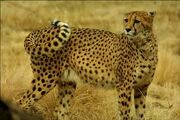 The Cheetah is a large-sized feline (family Felidae, subfamily Felinae) inhabiting most of Africa and parts of the Middle East. It is the only extant member of the genus Acinonyx. The cheetah can run faster than any other land animal— as fast as 112 to 120 km/h (70 to 75 mph) in short bursts covering distances up to 500 m (1,600 ft), and has the ability to accelerate from 0 to over 100 km/h (62 mph) in three seconds.
The Cheetah thrives in areas with vast expanses of land where prey is abundant. The cheetah likes to live in an open biotope, such as semi-desert, prairie, and thick brush, though it can be found in a variety of habitats. In Namibia, for example, it lives in grasslands, savannahs, areas of dense vegetation, and mountainous terrain.
The Cheetah is a carnivore, eating mostly mammals under 40 kg (88 lb), including the Thomson's gazelle, the Grant's gazelle, the springbok and the impala. The young of larger mammals such as wildebeests and zebras are taken at times, and adults too, when cheetahs hunt in groups. Guineafowl and hares are also prey. While the other big cats often hunt by night, the cheetah is a diurnal hunter. It hunts usually either early in the morning or later in the evening when it is not so hot, but there is still enough light.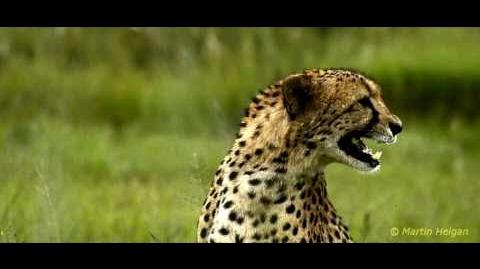 Community content is available under
CC-BY-SA
unless otherwise noted.