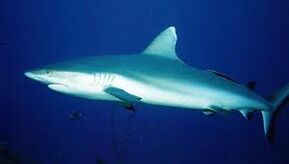 The Gray Reef Shark 
 is a species of 
requiem shark
, 
family Carcharhinidae
. 
Grey reef sharks were the first shark species known to perform a 
threat display
, a
stereotypical behavior
 warning that it is prepared to attack. 
This species has been responsible for a number of 
attacks
 on humans, so should be treated with caution, especially if they begin to display. They are caught in many 
fisheries
 and are susceptible to local population depletion due to their low reproduction rate and limited 
dispersal
. As a result, the 
International Union for Conservation of Nature
 has assessed this species as 
Near Threatened
.
Description

Edit
The grey reef shark has a streamlined, moderately stout body with a long, blunt snout and large, round eyes. There are 13–14 tooth rows on each side of both jaws (usually 14 in the upper and 13 in the lower). The upper teeth are triangular with slanted cusps, while the bottom teeth have narrower, erect cusps. The tooth serrations are larger in the upper jaw than in the lower. The first dorsal fin is medium-sized, and there is no ridge running between it and the second dorsal fin. The pectoral fins are narrow and falcate (sickle-shaped).
The coloration is grey above, sometimes with a bronze sheen, and white below. The entire rear margin of the caudal fin has a distinctive, broad, black band. There are dusky to black tips on the pectoral, pelvic, second dorsal, and anal fins. Individuals from the western Indian Ocean have a narrow, white margin at the tip of the first dorsal fin, this trait is usually absent from Pacific populations. Grey reef sharks that spend time in shallow water eventually darken in color, due to tanning.
Generally a coastal, shallow-water species, grey reef sharks are mostly found in depths of less than 60 m (200 ft). However, they have been known to dive to 1,000 m (3,300 ft). They are found over continental and insular shelves, preferring the leeward (away from the direction of the current) sides of coral reefs with clear water and rugged topography. They are frequently found near the drop-offs at the outer edges of the reef, and less commonly within lagoons. On occasion, this shark may venture several kilometers out into the open ocean.
Grey reef sharks feed mainly on bony fishes, with cephalopods such as squid and octopus being the second-most important food group, and crustaceans such as crabs and lobstersmaking up the remainder.