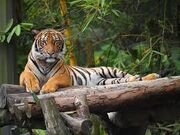 The Malayan Tiger is a tiger subspecies and has been classified as endangered by IUCN in 2008 as the population was estimated at 493 to 1,480 adult individuals in 2003; none of the three sub-populations likely harbors more than 250 mature breeding individuals, with a declining trend. In Malay language the tiger is called harimau, also abbreviated to rimau.
Description
Edit
Malayan tigers appear to be smaller than Indian ones. The average length of a male is 8 ft 6 in (259 cm), and of a female 7 ft 10 in (239 cm).
Its habitat consists of agricultural areas outside forests in Kelantan, Terengganu, Pahang, and Johor, and many riparian habitats outside forests in Pahang, Perak, Kelantan, Terengganu, and Johor.
Malayan tigers prey on sambar deer, barking deer, wild boar, Bornean bearded pigs and serow. Tigers also prey on sun bear, young elephants and Rhino calves. Whether their principal prey includes adult gaur and tapir is unknown. Occasionally, livestock is also taken; however, tiger predation reduces the numbers of wild boar which can become a serious pest in plantations and other croplands.