Where to Find us
See Nature of Toronto on Facebook. Help your world and your communicate.  Tell the world how great this site is and please do not to forget to add your comment and tell me how good it is.
Welcome to the Nature of the World Wiki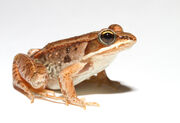 Animals live all over the world. They live in forests, fields, mountains and many terrains. Ever since humans have built cities, animals have moved into them and live along side with us. This site will take a look at the wildlife you see in your hometown all over the world. You will know what they eat, what not to do, you will learn to live and react to these animals. This site is a user friendly for animal seekers, bird watchers, butterfly catchers, fishers and so on. It is also a guide to your local wildlife and a resource for all who are seeking adventure for every turn.
Describe your topic
Need information about animals you see in your neighborhood, Someone spotted a wolf attacking a dog or you are just curious on why squirrels are losing there fur. This site have the answers and facts about general knowledge of local wildlife in your town.
Special Dates
Links
Here is some sites that can help you to learn about Toronto Wild Life.  But to be clear, this site is about Wild Life in all cities in the world so these links will be a good example of all the animal related to your home town.
Recommendations
Community content is available under
CC-BY-SA
unless otherwise noted.