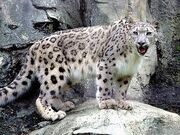 The Snow Leopard is a moderately large cat native to the mountain ranges of Central Asia. The classification of this species has been subject to change and is still classified as Uncia uncia by MSW3 as of 2000 and CITES Appendix I. However with more recent genetic studies, the snow leopard is now generally considered as Panthera uncia and classified as such by IUCN. Classically, two subspecies have been attributed, but genetic differences between the two have not been settled. The snow leopard remains on the endangered species list classified as C1.
An individual snow leopard lives within a well-defined home range, but does not defend its territory aggressively when encroached upon by other snow leopards. Home ranges vary greatly in size. In Nepal, where prey is abundant, a home range may be as small as 12 km (5 sq mi) to 40 km (15 sq mi) and up to five to ten animals are found here per 100 km (40 sq mi); whereas in habitats with sparse prey, an area of 1,000 km (400 sq mi) supports only five of these cats.
Like other cats, snow leopards use scent marks to indicate their territory and common travel routes. These are most commonly produced by scraping the ground with the hind feet before depositing urine or scat, but they also spray urine onto sheltered patches of rock.
Snow leopards are carnivores and actively hunt their prey. Like many cats, they are also opportunistic feeders, eating whatever meat they can find, including carrion and domestic livestock. They can kill animals more than three to four times their own weight, such as the Bharal, Himalayan Tahr, Markhor and Argali, but will readily take much smaller prey such as hares and birds. They are capable of killing most animals in their range with the probable exception of the adult male Yak. Unusually among cats, snow leopards also eat a significant amount of vegetation, including grass and twigs.