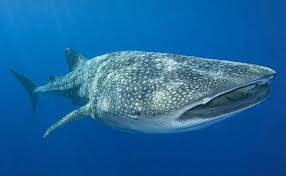 The Whale Shark, Rhincodon typus, is a slow-moving filter feeding shark and the largest extant fish species. The whale shark holds many records for sheer size in the animal kingdom, most notably being by far the largest living non-mammalian vertebrate, rivaling many of the largest dinosaurs in weight. It is the sole member of the genus Rhincodon and the family, Rhincodonitdae (called Rhiniodon and Rhinodontidae before 1984), which belongs to the subclass Elasmobranchii in the class Chondrichthyes. The species originated approximately 60 million years ago.
Description

Edit
As a filter feeder it has a capacious mouth which can be up to 1.5 meters (4.9 ft) wide and contains 10 filter pads and between 300 and 350 rows of tiny teeth. It has five large pairs of gills. Two small eyes are located towards the front of the shark's wide, flat head. The body is mostly grey with a white belly; three prominent ridges run along each side of the animal and the skin is marked with a checkerboard of pale yellow spots and stripes. These spots are unique to each individual and are useful for counting populations. Its skin can be up to 10 centimeters (3.9 in) thick. The shark has a pair each of dorsal fins and pectoral fins. Juveniles' tails have a larger upper than lower fin while the adult tail becomes semi-lunate (crescent-shaped). Spiracles are just behind the eyes.
The whale shark is the largest non-cetacean animal in the world. The average size of adult whale sharks is estimated at 9.7 meters (31.82 ft) and 9 tonnes (20,000 lb).
The whale shark inhabits all tropical and warm-temperate seas. Although typically seen offshore, it has been found closer to land, entering lagoons or coral atolls, and near the mouths of estuaries and rivers.
The whale shark is a filter feeder – one of only three known filter feeding shark species (along with the basking shark and the megamouth shark). It feeds on macro-algae, plankton, krill, Christmas Island red crab larvae, and small nektonic life such as small squid or vertebrates. It also feeds on small fish and the clouds of eggs and sperm during mass spawning of fish shoals.
Despite its size, the whale shark does not pose significant danger to humans. Although massive, whale sharks are docile fish and sometimes allow swimmers to catch a ride, although this practice is discouraged by shark scientists and conservationists. Younger whale sharks are actually quite gentle and can play with divers.